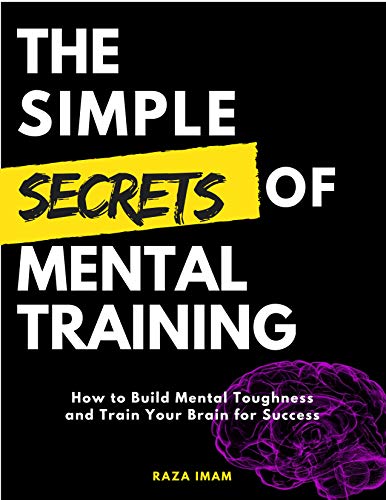 azw3 | 2017 | ISBN: ‎ B078QXSYD6 | 75 pages | English | 580.37 KB
**Attention: Buy the paperback version of this book and get the Kindle ebook version for FREE**
TIRED OF FEELING STUCK? Use These 15 Scientifically Proven Secrets to Build Mental Toughness and Unleash Your Inner Champion...
I've always been interested in 
mental training for peak performance
.
World-class athletes. 
Elite military soldiers. 
Rockstar salespeople. 
Business moguls.
They all have a "secret" to thrive in difficult situations. To rise above chaos and succeed. To defy the odds and achieve incredible results. 
So I went on a long journey to study what made them tick.
How were they able to achieve such amazing success? 
What mindset, traits, and 
mental toughness training 
habits did they have that made them the high-performers that they were? 
How were they able to consistently maintain high performance?
In one word, it's mental toughness.
It's self-confidence, belief, visualization, and the ability to control their emotions and take action.
But it boils down to mental toughness.
So I became obsessed with learning about 
mental toughness training
.
I read books, and articles, and watched videos to discover how to build mental toughness.
During my research, I identified 15 key habits to help build mental toughness.
This is my step-by-step manual I created for regular people that want to build mental toughness, build a champion mindset, and unleash their potential.
I share simple, scientific secrets, tips, and habits that regular people can use to achieve mental toughness - in as little as 15 minutes a day.
Here's What You'll Discover
How a little-known breathing "trick" can instantly build mental toughness (use this when you're scared, nervous, or anxious to think clearly, make decisions quickly, and ACT decisively)

Why visualization doesn't work, and the ACTUAL way to visualize so that you see almost instant results (I reveal the difference between "passive" visualization and "active" visualization)

How top-performers like Tiger Woods, Lebron James, and Tom Brady talk to themselves so that they perform under pressure (it has to do with raising their internal standards so that they ACT like champions)

How to push past discomfort and fear by having a clear, definite purpose (a clear purpose activates a part of your subconscious mind so that you have unshakable resilience)

How the secret of having "micro-goals" helps you build mental toughness by constant progress (this is how elite military professionals are able to get out of disastrous situations)

How to use the power of cold water to build mental toughness (it's tough, but will unleash a sense of power and confidence you never thought you had)

The scientific link between body language and confidence, self-esteem, mental toughness, and peak performance (once you discover this, you'll never want to slouch again!)

How to build mental toughness by cutting out pornography and harnessing your sexual energy

How to train your subconscious mind to attract good things - by freely giving them away.

Imagine the sense of mental toughness, power, and dominance you'll have after using these simple habits.
This is book 1 in the "Train Your Brain" series. 
So buy this book now to discover the secrets of mental training.